Have Gavel Will Travel – Happy Birthday to Judge Hunt b. 8/25/1903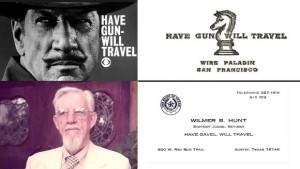 Saturday nights, from 8:30 – 9:00 between 1957 and 1963, my dad and I were glued to the TV to watch "Have Gun Will Travel." The show was about a rough but debonaire hired gun named Paladin, who lived in a fancy San Francisco hotel, attended by his anxious Chinese assistant Hay Boy. Each episode began with a visitor or a telegram requesting Paladin's assistance. Despite some reluctance on his part, he ventured forth onto the unruly backroads of the West, saving the innocent and ushering his adversaries off boots first.  A man of few words, Paladin often dispensed nearly as many bullets as words to his usually more garrulous adversaries.
After his retirement from the bench in 1969, Dad set up an office with his friend Hardy Hollers in downtown Austin, and signed up for circuit duty. They came by mail and perhaps … in a telegram. Jeana accompanied him on several of the many cases he tried in various small Texas towns, when the local judge was on vacation or forced to recuse himself, etc. My dad always carried this card with him wherever he ventured forth onto the unruly backroads of the West.