Glendale Cemetery in what was Harrisburg, Texas
From Malcolm McCorquodale III:
I went to Glendale cemetery today.  Glendale cemetery is the oldest cemetery in Houston and is located right on the bayou in what used to be called Harrisburg.  (Harrisburg was annexed by Houston in the 1920's.  I remember the Judge [Wilmer Brady Hunt] saying that he was born in "Harrisburg" and that not making much sense to me.)  This historic cemetery is not usually open, but since today was Memorial Day, it was open despite the threat of inclement weather.  There were a few people there and one appeared to be the cemetery archivist.  She had record books with documents relating to the cemetery.  (I requested a copy of some of the records that appeared to be interesting.)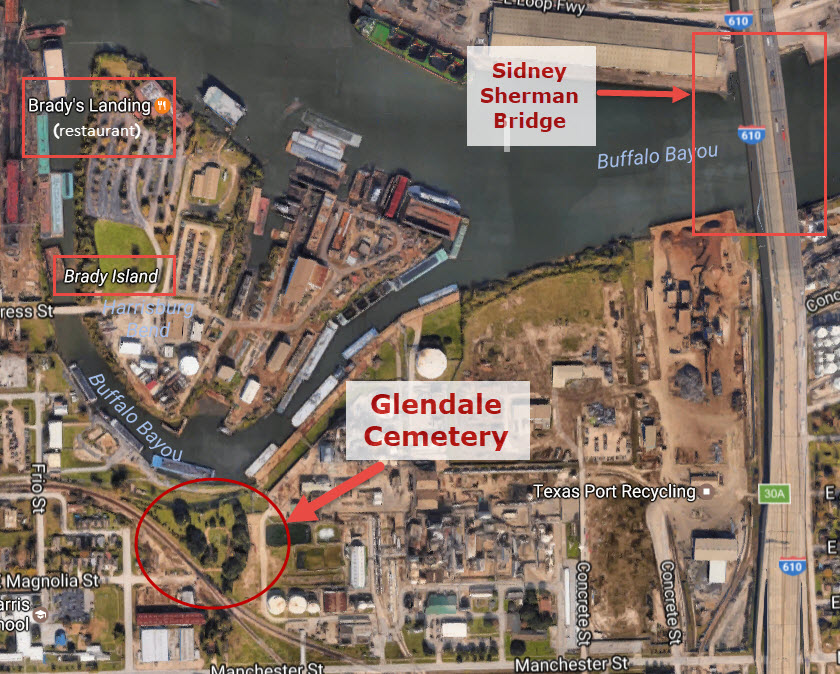 I found a historical marker on the edge of the cemetery that reads:
SITE OF THE HOME OF
GENERAL SIDNEY SHERMAN
1805 – – 1873
COMMANDER OF THE LEFT WING OF THE
ARMY AT THE BATTLE OF SAN JACINTO
MEMBER OF THE TEXAS CONGRESS,
1842-1843 — BUILDER OF THE FIRST
TEXAS RAILROAD — THIS HOUSE WAS
BURNED IN 1853
Erected by the State of Texas
1936
Just to the North and West, across Brays Bayou, you will find Sherman Street.  If you follow Sherman Street to the West a ways, you will see where it intersects with Sidney Street.