November 16th, 2018
Comments off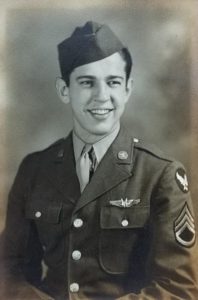 Jack Helm
Thanks to cousin Gary for contributing the photos and text below. I heard about Jack from my mother Eugenia Howard Hunt and my uncle Alfred Philo Howard. Both spoke happily to have known him and deeply saddened by his loss. Philo spoke of Jack a number of times as a close friend, as Gary points out. My other spoke of Jack solemnly in the way one does after a recent loss. ~ Sperry
Hello Extended Family,
Given that it's Veterans Day, I thought I'd share some photos I found of Thomas "Jack" Helm, the younger brother of Eugenia "Nina" Helm Ince. He was killed in a bombing raid targeting a munitions plant over Wiener Neustadt, Austria in Nov 1943. I believe that Jack Helm & Philo Howard were the same age and quite close growing up –– much as Eugenia Helm Ince & Eugenia Howard Hunt were the same age and quite close growing up. 
It's very sad to think that the two "Clark sisters" (Elizabeth Helm & Nancy Howard) would each lose a pilot son in Europe, not to mention that Philo spent most of the war in a POW Camp near Peenemünde on the Baltic Sea, if I recall from what he told me at Gene Hunt's funeral in 1990. 
Attached below –– Jack's Army Air Corps photo (he was based in North Africa); his Purple Heart & Air Medal; the War Dept Telegram declaring him MIA in Nov 1943; photo of his B-17 "Flying Fortress" plane –– all of which were among his belongings sent back to his mother, Elizabeth Clark Helm.
Best wishes,
Gary